"A situation in itself," he said, "is neither happy nor unhappy. It's only your response to it that causes your sorrow."― Chitra Banerjee Divakaruni, The Palace of Illusions
The Palace of Illusions, written by Chitra Banerjee Divakaruni. Some of her works include Arranged Marriage: Stories (1995); The Forest of Enchantments (2019); The Last Queen (2021). In 2018 NR Pachisia and Dipankar Jojo Chaki acquired the rights to a film adaption of The Palace of Illusions.
A story so important that it has transcended thousands of years, the Mahabharat is an everlasting epic. Every Indian is as aware of its extensive construction as the west is with the Bible. It takes some nerve to play around with something this holy and Chitra Banerjee Divakaruni has done an amazing job.
She doesn't change the narrative, nor does she produce an alternative conclusion, but instead she offers an unconventional perspective. Envision observing the story of Mahabharat through Draupadi's perceptions — the woman who started it all. For those unaccustomed to the epic, Draupadi or Panchaali was the wife of the five Pandava brothers, the kings of Hastinapur.
She becomes one of the prime characters in Mahabharat, when Arjun, the dynamic Pandava prince, wins her as his bride in a Swayamvar. Marrying into a royal family in exile and then being asked to marry all four of Arjun's brothers is not exactly the perfect wedlock most princesses picture.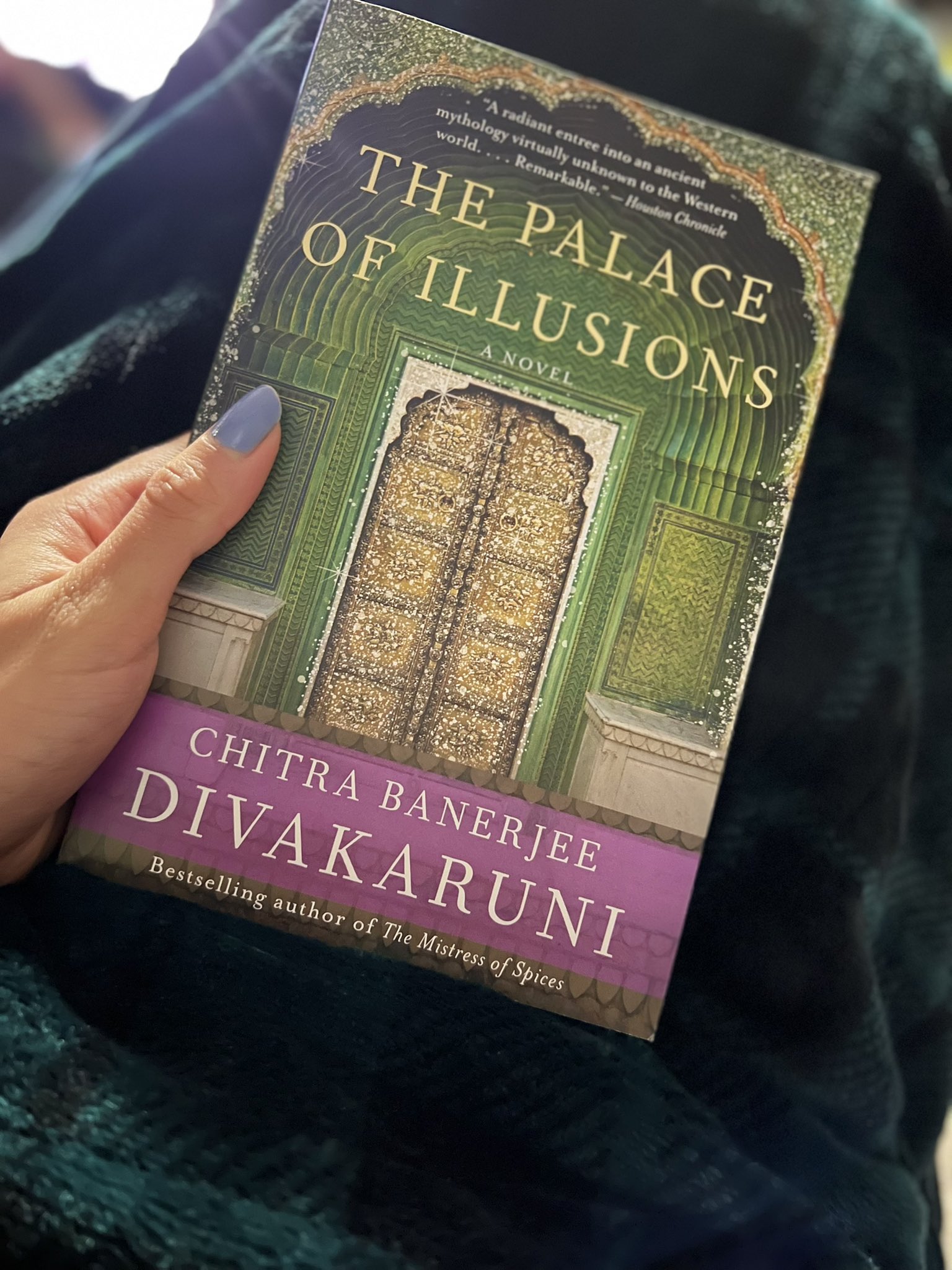 Banerjee's efforts to narrate to the readers the hidden narratives behind those events and to throw light on the women of Mahabharat are commendable. The account starts from her being in King Drupad's home and jumps back and forth between past and present, digging out stories and carving characters. Banerjee's portrayal of the princess is a youthful radical, a tomboy craving for her father Drupad's attention.
She is firm on leaving a mark on the history of this world. Constantly in disagreement with her elders on her conventional role as a princess and a woman, she finds support and solace with her confidante and companion, Krishna, King of Dwarka.
Draupadi strives to fight the social constructions encompassing her. But pretty early on in her life, she learns that she has to surrender to more important values — like preserving the family honor and opting for the greater good of the kingdom. A significant example of this is her Swayamvar, where she pushes aside her heart's want to pick Karna, and picks Arjun. Another notable example is when her mother-in-law, Kunti, directs her to marry all her five sons, she submits. We see her development from a young, feisty girl to a queen of the times.
Banerjee presents fascinating sights on the dynamics of specific relationships. By ordering Draupadi to marry all five of her sons, Kunti does not charm her new daughter-in-law. What's impressive is how Panchaali forms a position for herself in the household and earns an important rank in the eyes of her husbands.
Banerjee also investigates the relationship between Draupadi and Arjun, frequently rumored to be her favorite spouse. Arjun seems fit to be the perfect husband and prince, but their relationship is short-lived. It collapses shortly after her wedding to his brothers. In the end, Draupadi is laying on the floor of Himavan, regretting not marrying Karna, who is the half-brother of the Pandavas.
It's important to understand that there is no solid affair between Draupadi and Karna in the actual Mahabharat. In fact, Karna's relation to the Pandavas is unveiled very late in the story. Banerjee constructs on popular legends and examines Draupadi's secret passion as a crucial plot detail in the book.
Chitra Banerjee Divakaruni artfully intertwines the original story of Mahabharat, and at the same time writes her own perspective. The title is derived from the ethereal palace that housed the Pandavas when they were in Khandav. The Palace of Illusions was full of optical deceptions. When the Kauravas came to visit, they were confused and lost at every turn.
Draupadi's maid mocked their confusion, but because it was thought to be Draupadi herself, it led to one of the greatest wars in history. Unsurprisingly, the chapter that includes the planning of this marvelous palace is one of my favorites. It shows the designing process of the Palace of Illusions. It starts with Draupadi describing the burning of the forest in Khandav. She is hot and irritable from the fire. As she cooks her husbands call to her. 
When she goes to them, she sees a strange man kneeling on the floor. That mysterious man was Maya-Asur, who could build wonders. He would then go on to fulfill the wishes of each of the brothers and add whatever they asked for to the palace. When it was Panchaali's turn to speak, she thinks of the ash from the burning forest that settles on her skin, or the fact that she hadn't been able to bathe for days.
So she asked for water. Everywhere in the palace, she wanted water. She wanted pools and ponds. She even demanded a stream flowing through the palace that would have lotus blooming in it all year round. It was intriguing to understand the process of making the palace and the story that followed.
Another one of my favorite chapters is the second chapter. Draupadi is young and insecure about her complexion. She is extremely dark. Her industrious nurse scrubbed her skin with various exfoliants and skin-whitening unguents for hours. She saw Krishna's confidence and at fourteen, gathered up the courage to ask him about her destiny with dark skin. He gave her simple wisdom which gave her immense confidence to rise to the other princesses and queen of King Draupad. In this chapter, we can read about how Draupadi perceived Krishna, and what their relationship looked like.
She describes him to be a chameleon, different from everyone else. He was discussing politics with King Draupad, commended Dhri, Draupadi's brother on his sword skill, and delighted Draupadi's Dhai Ma. And yet with her, he was sharing news of the outside world, asking for her opinions, challenging her traditional thought, and asking her logical questions. Krishna was her only companion apart from her brother Dhri and Dhai Ma, and her father who called for her rarely.
While skimming through the book to look for my favorite parts, I found myself getting lost in the storyline all over again. The Palace of Illusions is very well written. It comprises both fact and fiction. As confirmed by Divakaruni herself, all the events that take place in the book are factual (as recorded in the Mahabharat). It is only Draupadi's perspective that is her own.
However, after reading the novel I was finding it hard to think that Draupadi herself did not write this book, for Divakaruni has done an excellent job in writing just what Draupadi must have felt, and at which moment. It gives a voice to Draupadi and forces you to perceive all your Mahabharat heroes and villains differently. I was so content with this book that I didn't think twice before buying another Chitra Banerjee Divakaruni book when I saw it available at my local bookstore. This novel is a must-read for all those who grew up with stories of Mahabharat as children. It will force the reader to rethink the major events of the epic differently.
It will make the reader ask questions, ponder over characters and choices that could have been made. I know I searched up a lot of questions on Google and had various conversations with those who have read the book and those extremely knowledgeable of this legendary epic.
The Palace of Illusions shows to the reader who Draupadi is. As a child, I thought that it was her arrogance that led to the war. That kind of makes her the villain. But when I read the book I was able to grasp the fact that she was nothing but a pawn at the hands of time—just the way Krishna says. Draupadi has also always been treated as a side character, the woman of the story, one not as important as Krishna or Arjun or Duryodhan, but reading from her perspective will change everything.